Google Maps to trailhead.
NOAA point forecast.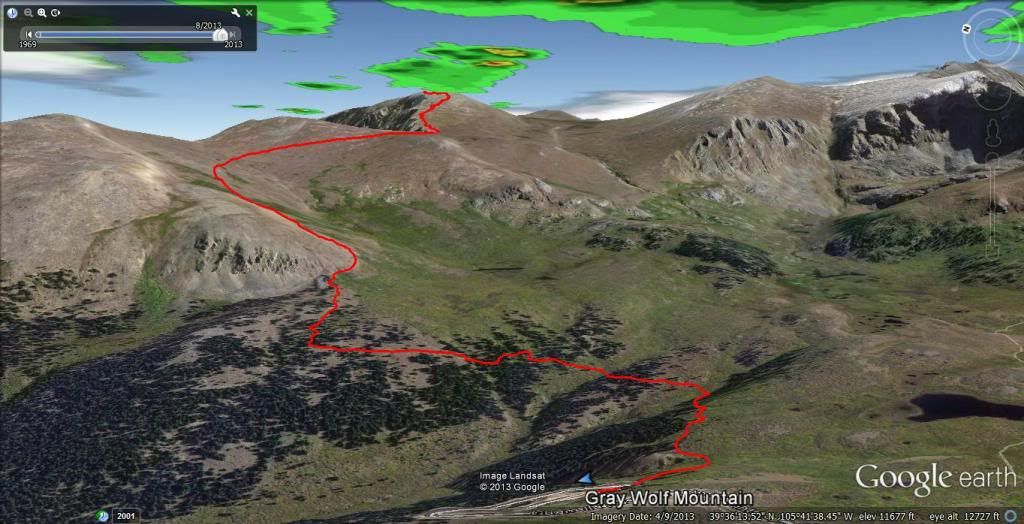 Android Stats:
Total Time: 4 hrs 22 min
Total Distance: 7.8 miles
Minimum Elevation: 11,364 ft
Maximum Elevation: 13,608 ft
Elevation Gain: 2,586 ft
Difficulty: Advanced willow bushwhacking experience is ideal. Forest opposite the road is strewn with wind fallen trees. Otherwise, simply up.
Date of Hike: August 11, 2013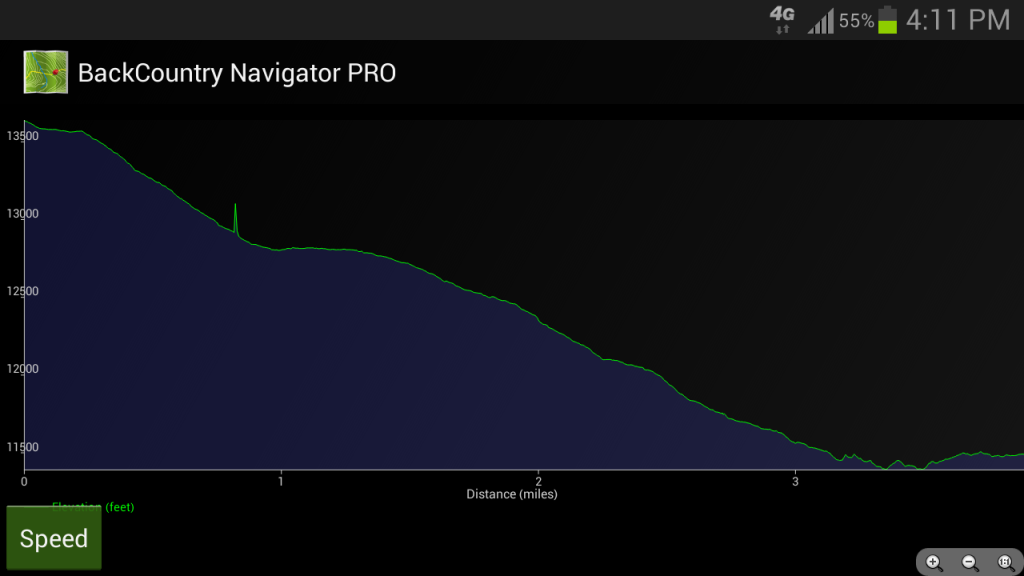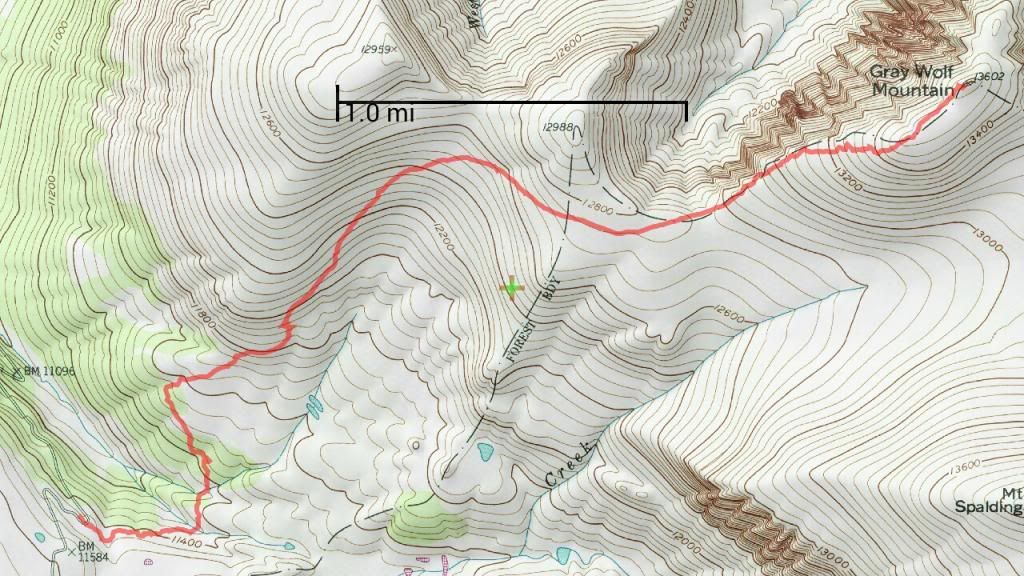 Ever since my first trip up Guanella Pass, the moderate west side of Gray Wolf Mountain has been on my list of 'figure-out' hikes. Reading up on this mountain one finds endless information on the Chicago Lakes, Summit Lake and Scott Gomer Creek routes. Chicago looked a little long, Summit looked too short and simple and Scott was obviously going to be a willow wandering mess. Surely there must be a better way.
Following the string of Subarus that acted like they were going to go fast, I turned around at the top of the pass and started back down to get a better eye on where to park and hike. A wide spot just above the high switchback made for parking and then we hiked straight off the bend and into the bush. Either lots of people try to head off this way, or lots of big animals use it as a way around. Lots of eight foot tall bushes, but there is a distinct line all the way to the creek. Then it gets interesting.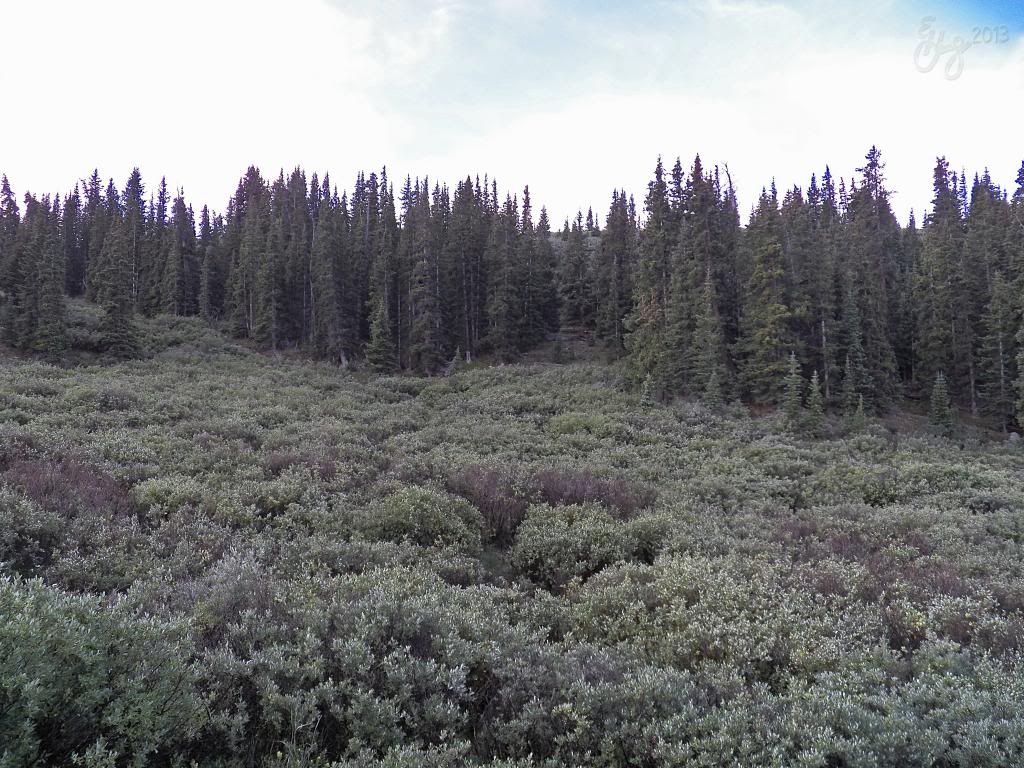 Being so early in the morning I was worried about stumbling across moose in the willows. And sure enough, a cow and calf popped their heads up above the plants when they heard us crossing the creek. Otherwise, I think the sound of the creek muffled our presence. They couldn't have been 30 yards away. The dogs smelled them, so I wrapped the leashes around my wrist and let them drag me through the willows as they plowed along the track the moose left. That was a mistake. Moose don't seem to mind getting wet. I do. And I was saturated from head to toe.
Even with rain gear on the willow bushes manage to tangle and snap around in such a way that water comes from every direction. Despite my soggy condition the dogs got me up to tundra in no time at all.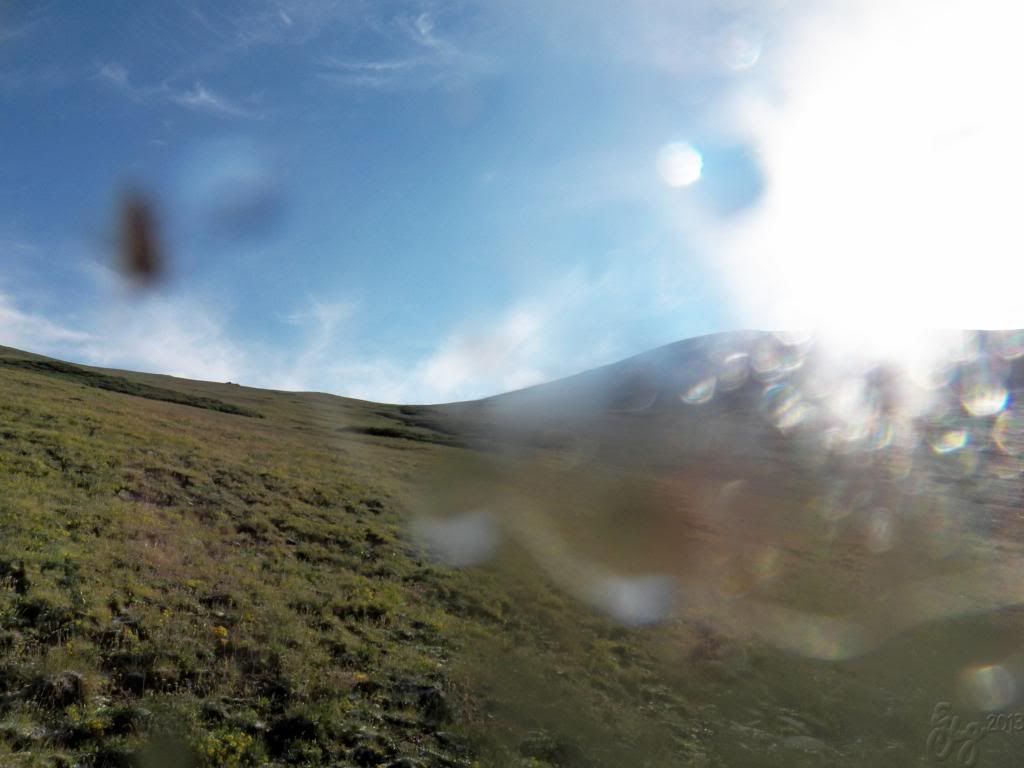 Once on the tundra it's a relatively simple hike up to point 12,988. And from that spot, one mile and 900ish vertical are the only obstacles.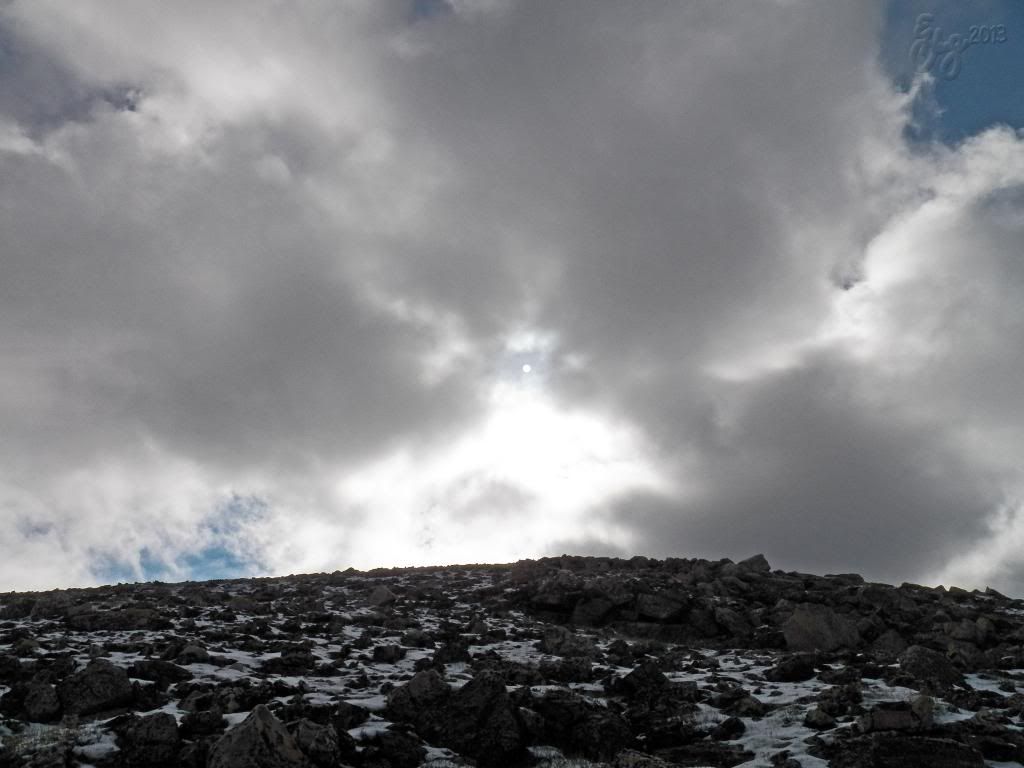 The building clouds, bit of snow and soaked feet made for a rather quick summit visit. And a splendid summit it is.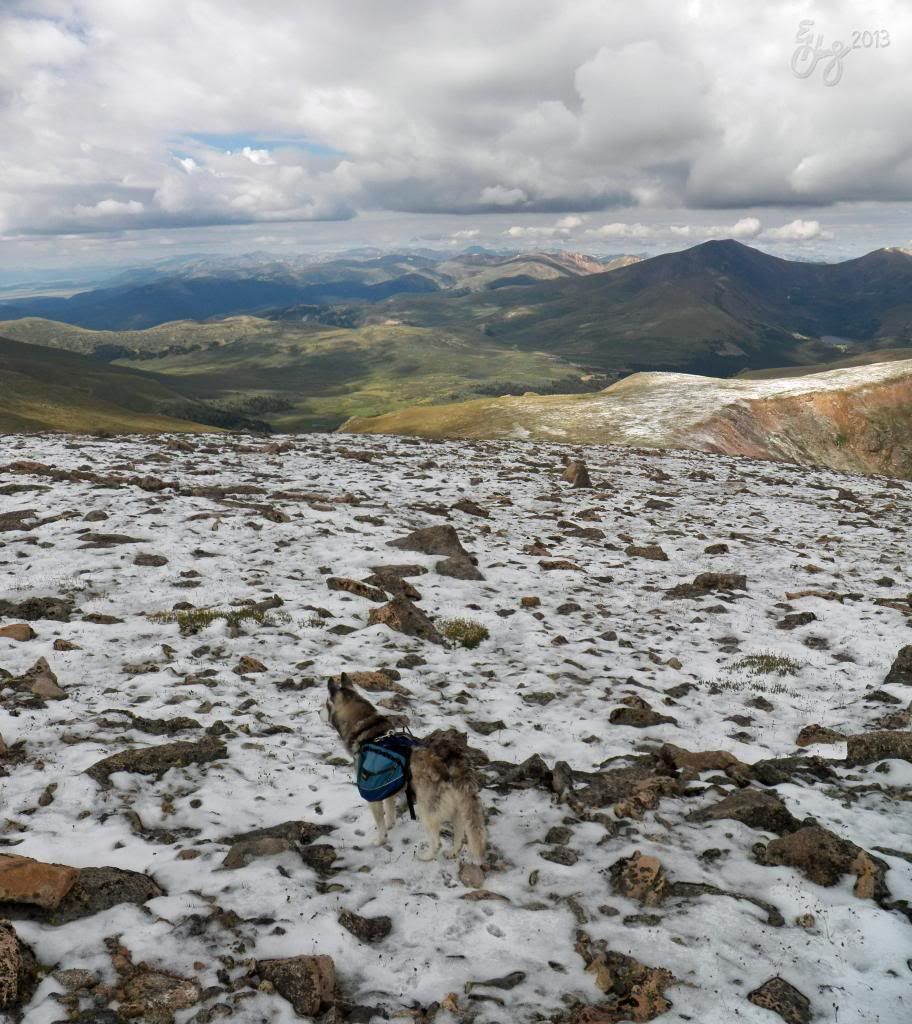 One interesting thing about hiking just over a valley from a 14er; you can pretty much hear every word of the conversations across the way.
Since my track didn't record on the way up, I had to try my best to aim for the point where we emerged from the willows. I missed it. Missed it good too. What I found was much worse than trudging through tangled branches. There are probably hundreds of downed trees from wind on the west facing forest. That added a good 30+ minutes to my day as I got lost and lost again trying to find a way around 15 foot piles of trees with root balls still attached.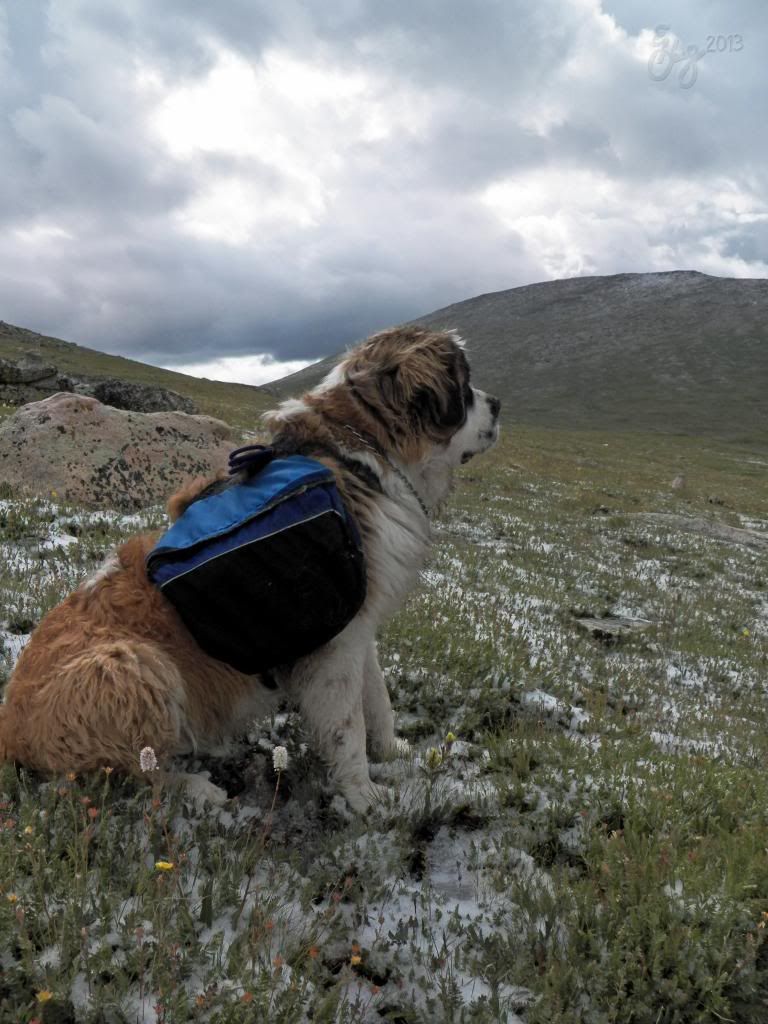 The masses back at the pass. The hairpin just below is roughly where I parked…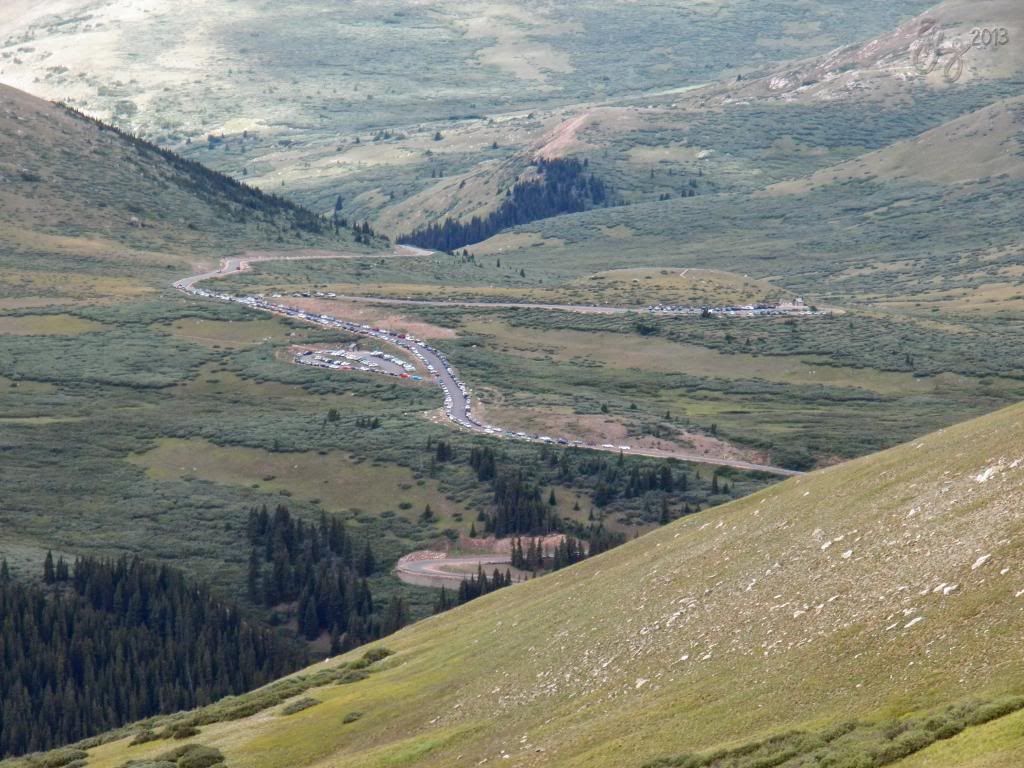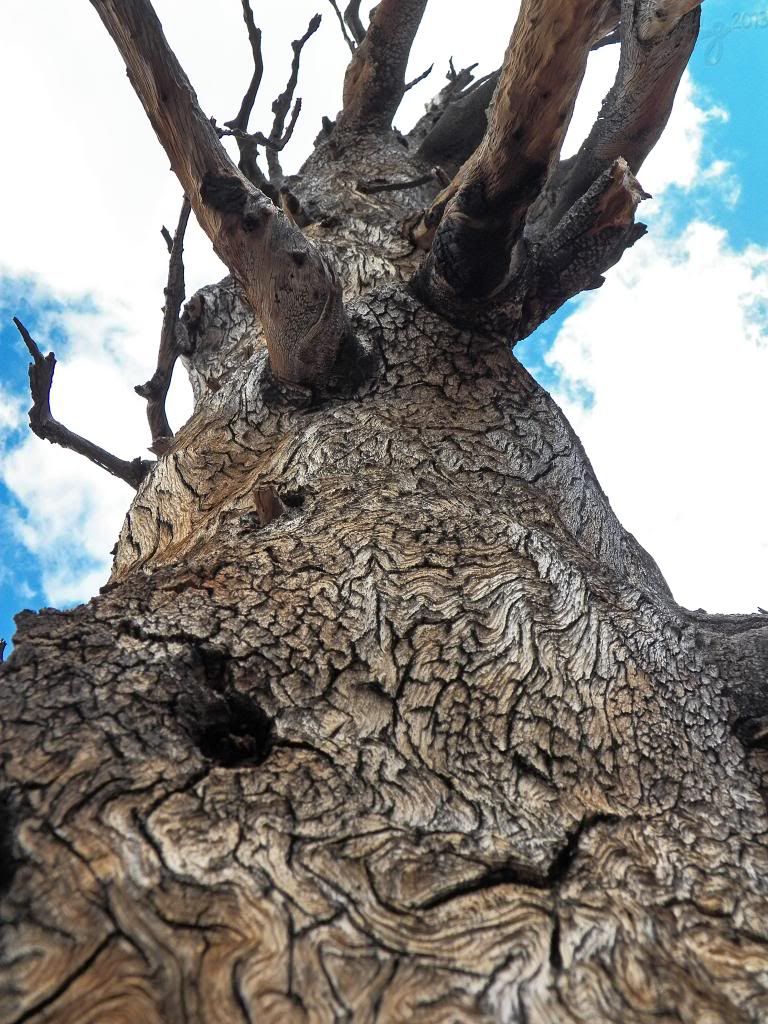 And one good look from eye level at the terrain between the road and the tundra…
Then comes the drive home. For weekends where I can only go on a Sunday, I'm going to start expanding out into the stuff off of HWY 285. I don't care if it's longer in time OR distance, I-70 in its current setup is a three hour disaster from Georgetown to Floyd Hill. Blah.