Google Maps to trailhead. (As of summer 2012 this access was very limited/closed due to construction on the Urad Mine road and surrounding area.)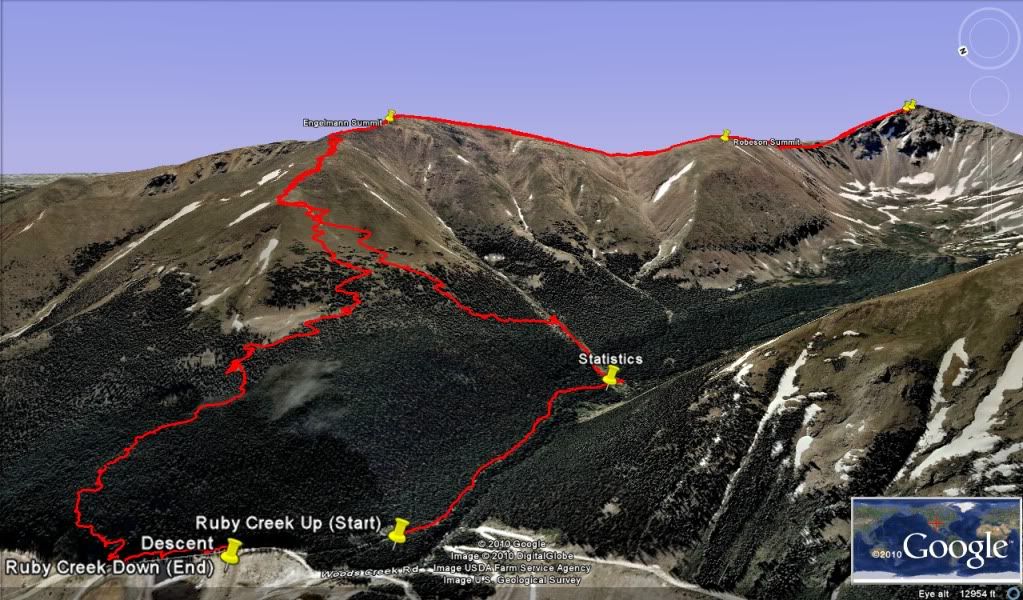 Android Stats:
Total Time: 10 hrs 11 min
Total Distance: 15.3 miles (Probably more like 10-11)
Minimum Elevation: 10,168 ft
Maximum Elevation: 13,641 ft
Elevation Gain: 5,032 ft
Difficulty: Steep class II, a knee killer up or down.
Date of Hike: July 24, 2010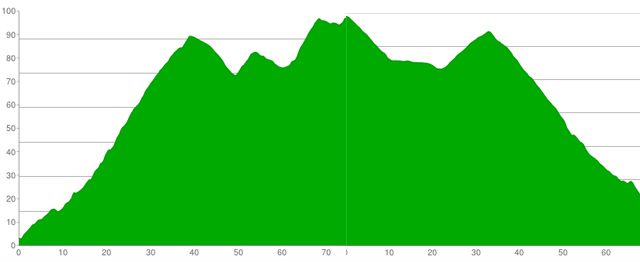 Parking here was no issue in 2010. There was a large pullout just opposite this sign. It marks the start of the route and is an instant warm up for what's to come.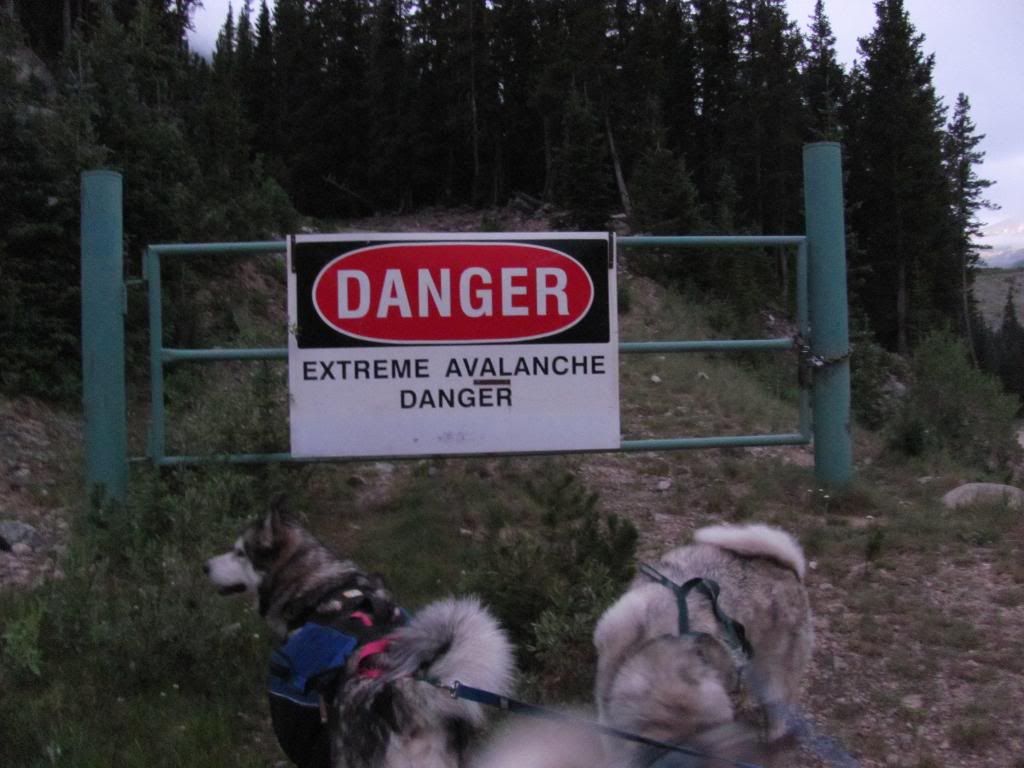 Supposedly there are pipes and junk sticking up out of the ground where you're to begin heading up to treeline. We never found these, and the map came in handy for identifying the ascent gully. There are many of differing degrees along the west side of Engelmann Peak. With daylight illuminating the region it's hard to miss which one looks like the last possible route up.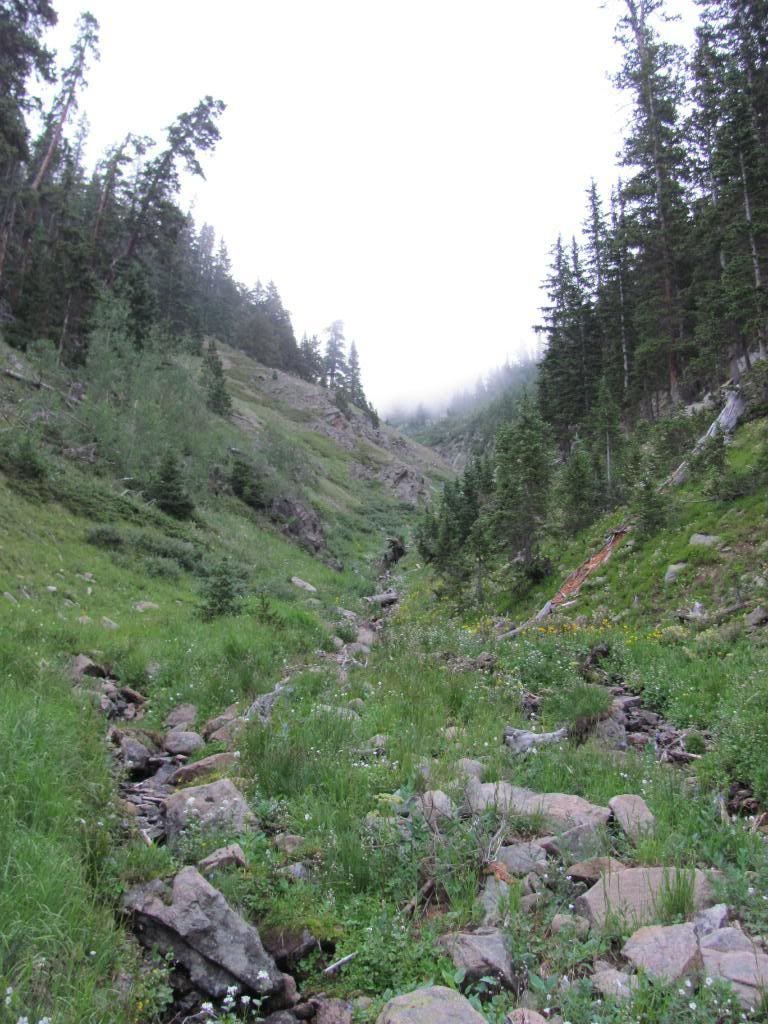 Looking up from treeline the angle doesn't get any worse, in fact the degree of slope begins to taper off there. And with a bit of animal/runoff trail to follow we were on the last easy bit to the summit of Engelmann Peak.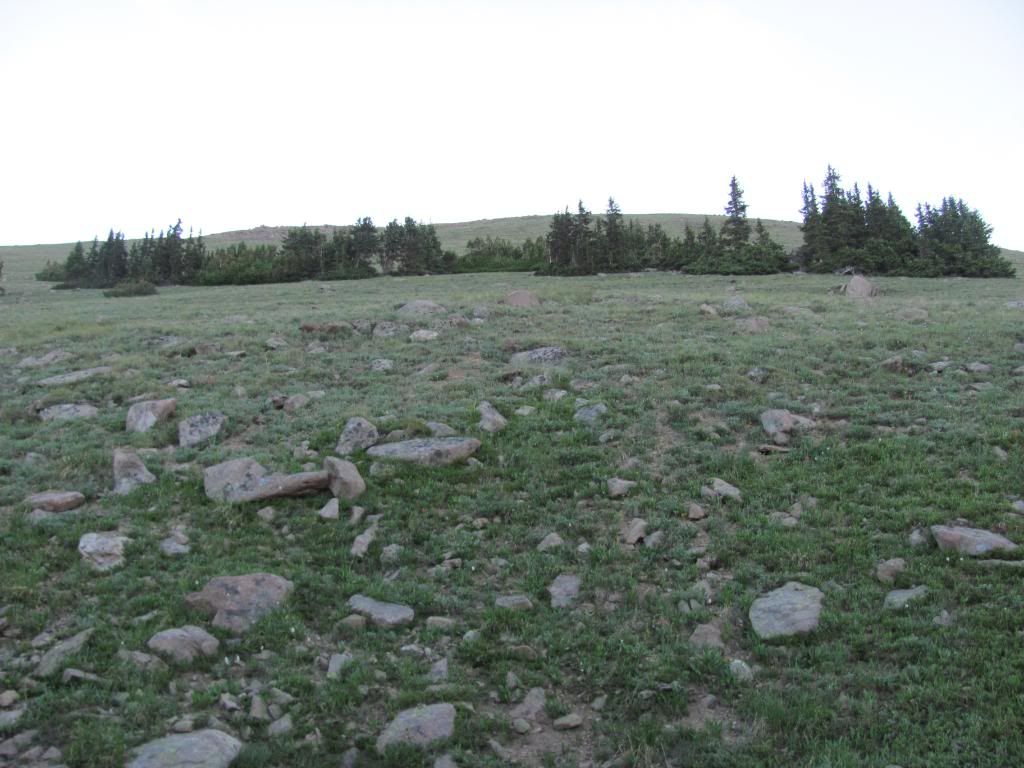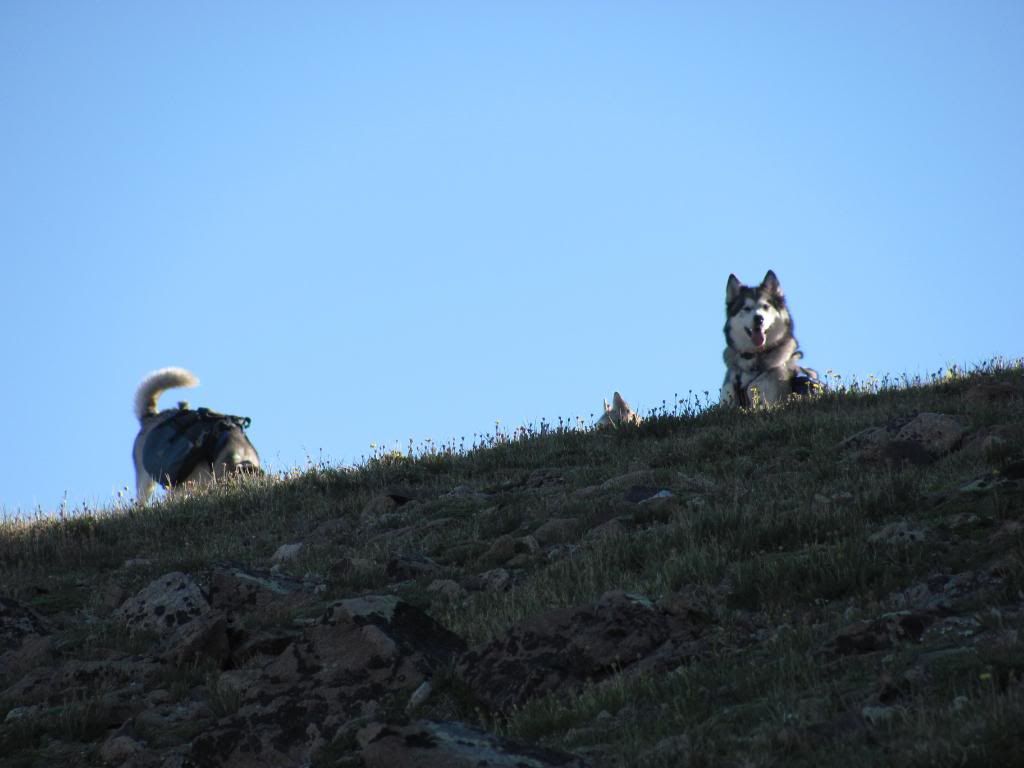 The ascent gully. I suppose we could have gone up almost the entirety to the summit, but we found that tacking north (picture right) and gaining the trail was much more pleasant.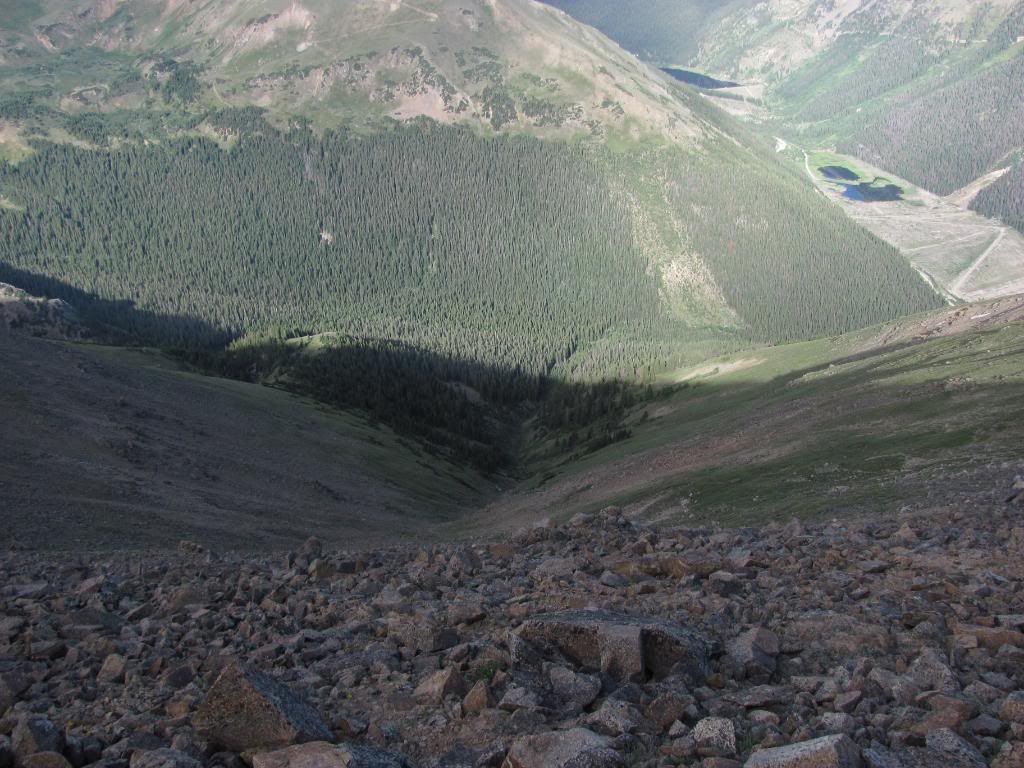 The views open up at the crest of the north ridge.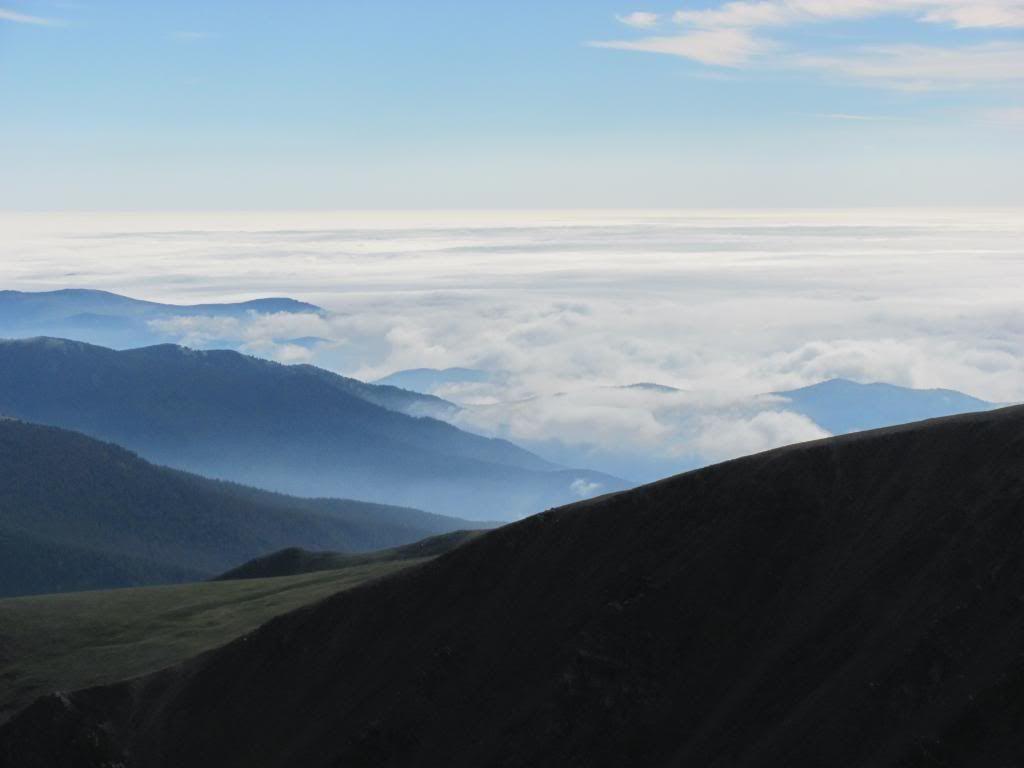 Doggies even found snow!
Engelmann summit.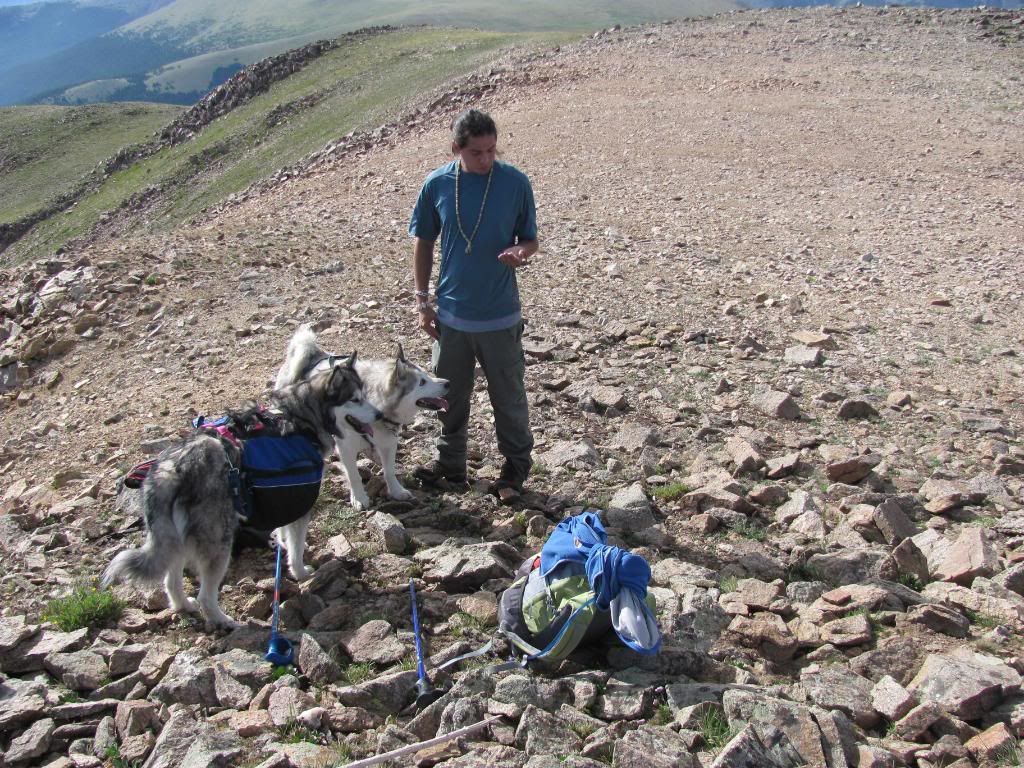 Looking south-ish at the remaining route. Originally we wanted to complete the five summit loop around Ruby Gulch, but that wasn't in the cards that day.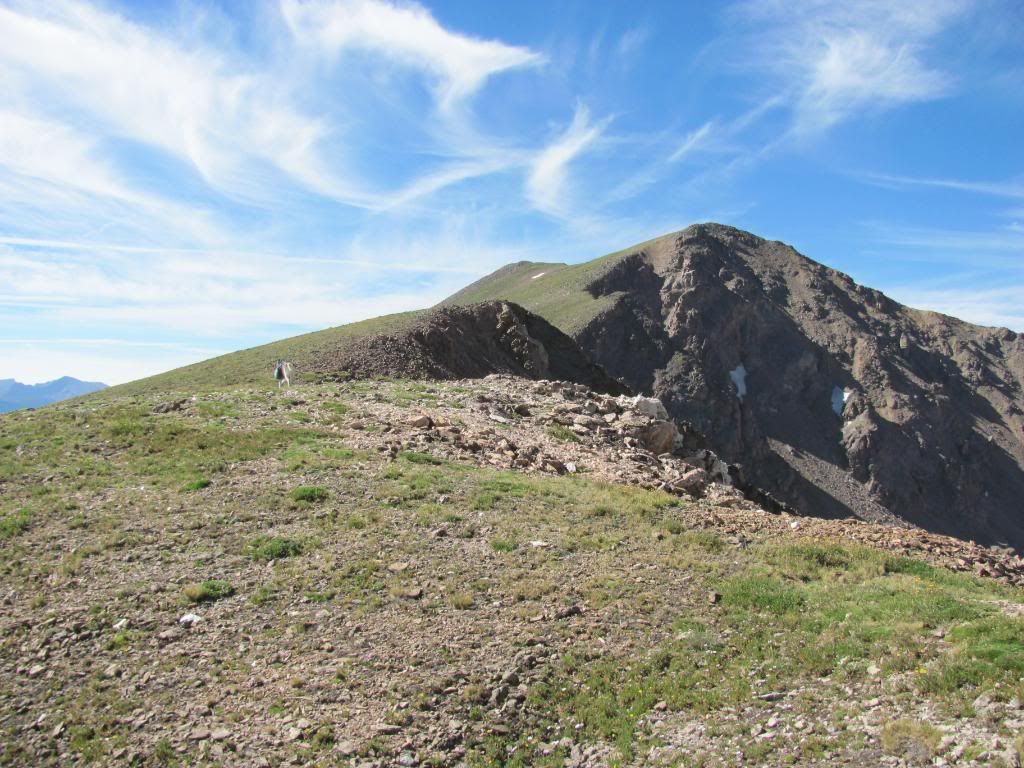 After the first summit we had mostly settled on maybe hitting up to Bard Peak then heading back. Dry high altitude air seems to get to the dogs harder than the humans. Robeson Peak is definitely one of those lumps that ended up getting named kinda.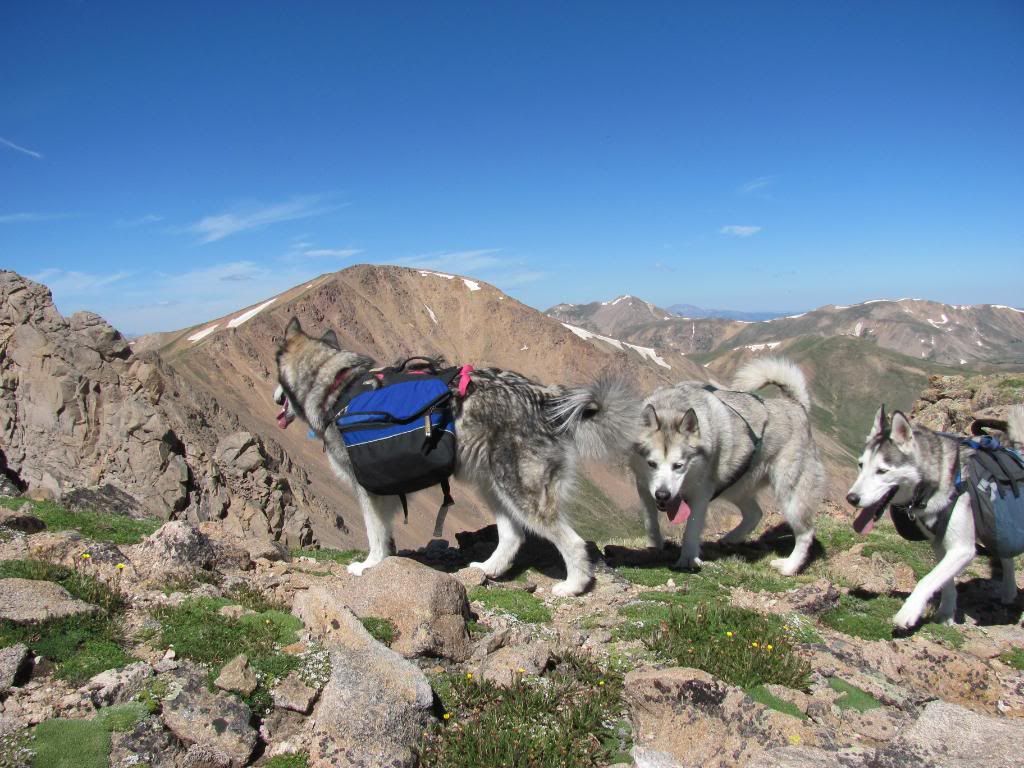 Then Bard Peak. We spent a good amount of time letting the dogs rest and everyone eat. A decision was made to retrace our route back to the van  as best we could. Skipping the contour of Robeson Peak of course.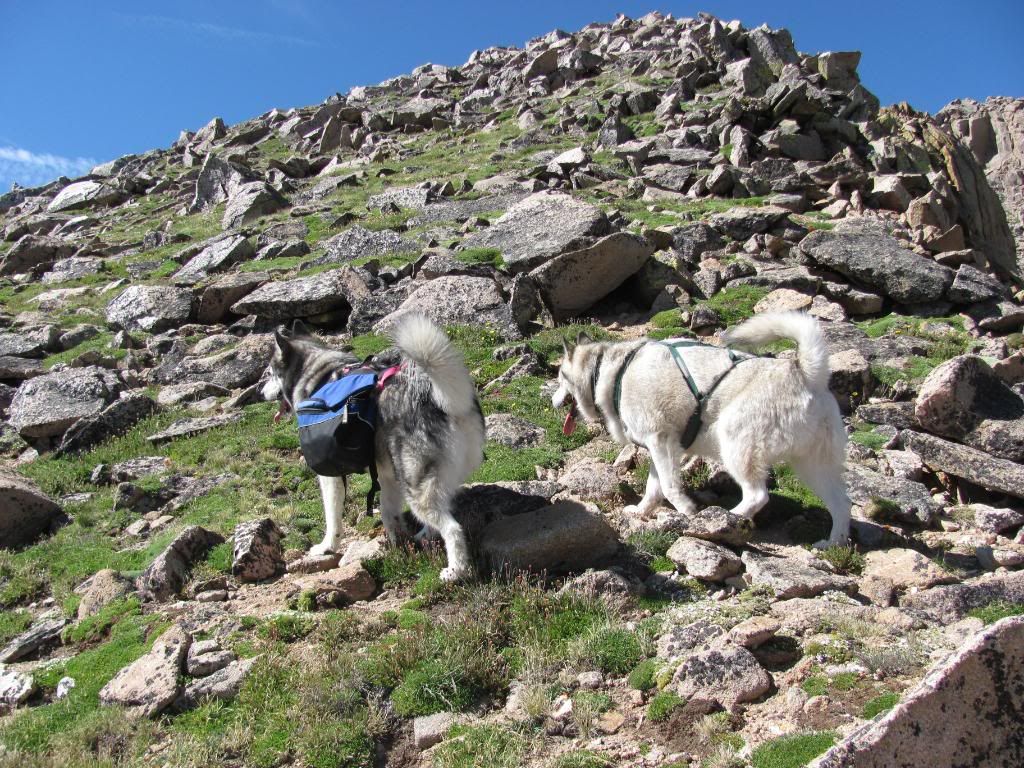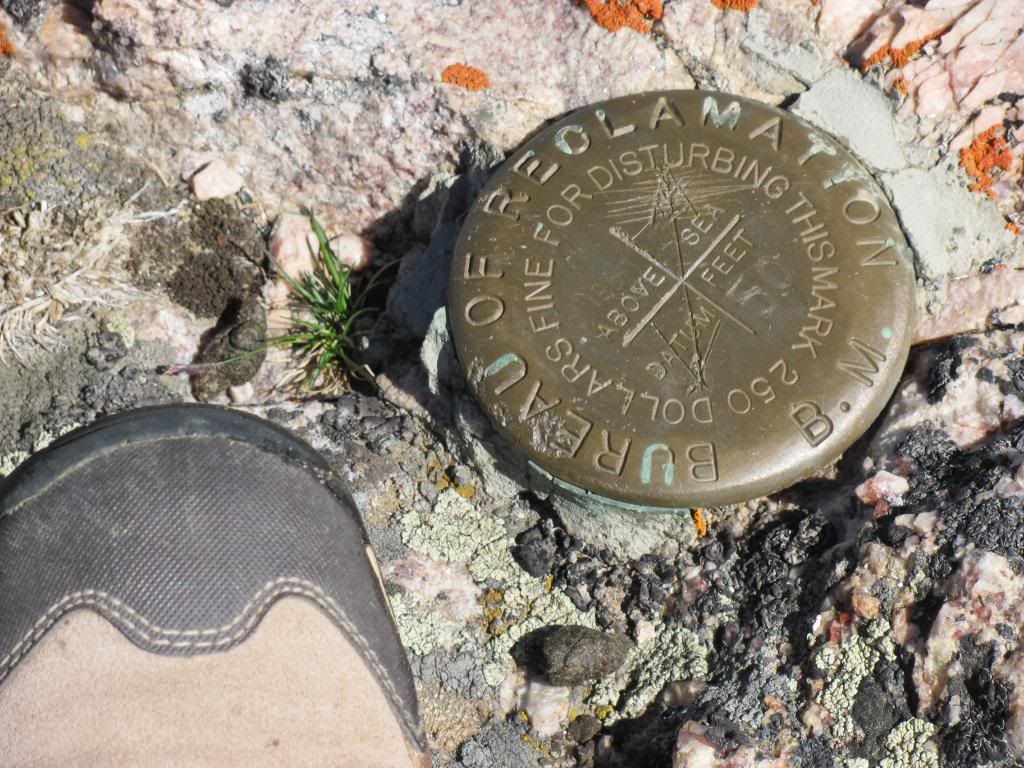 Parnassus would have to wait for another day.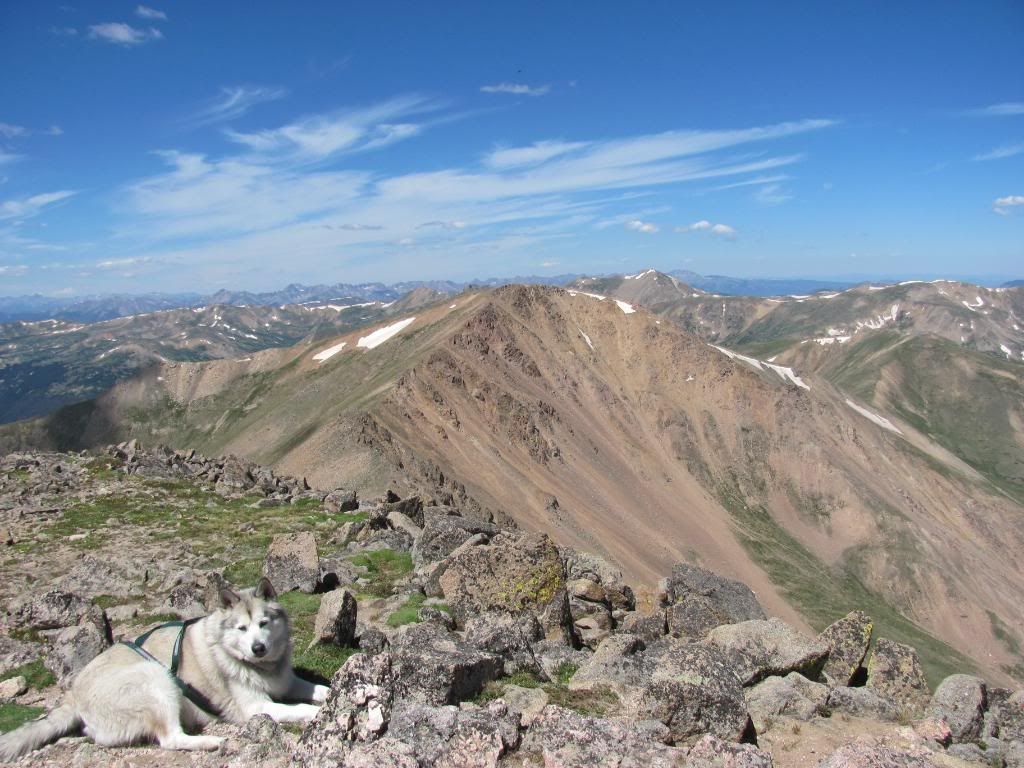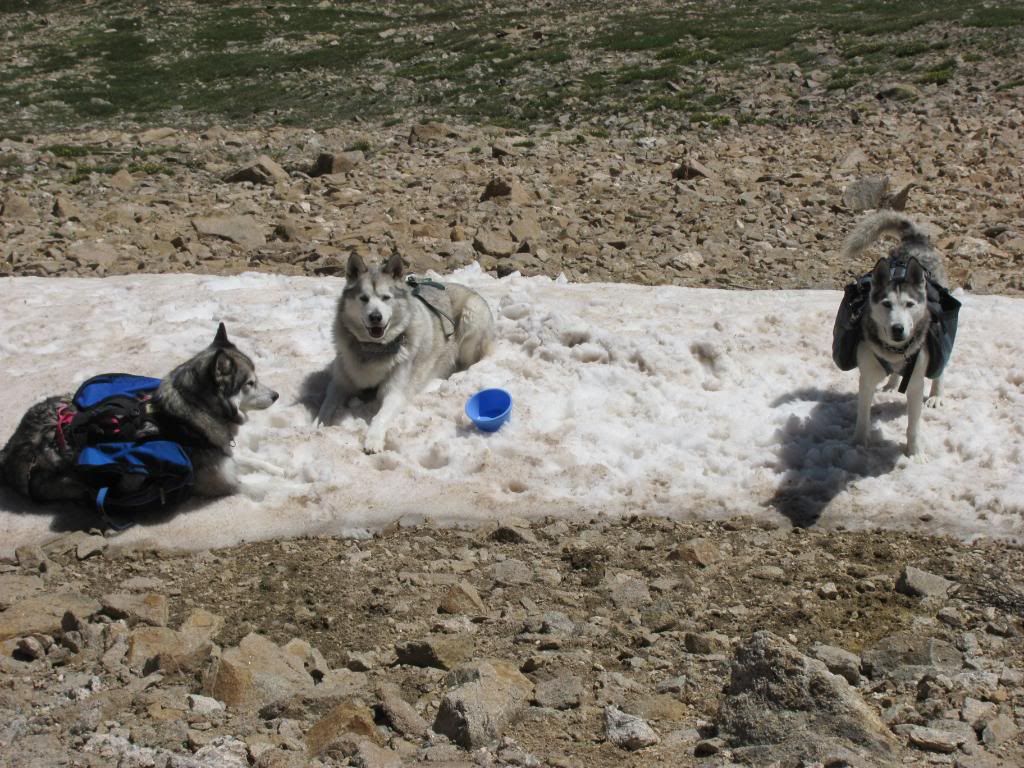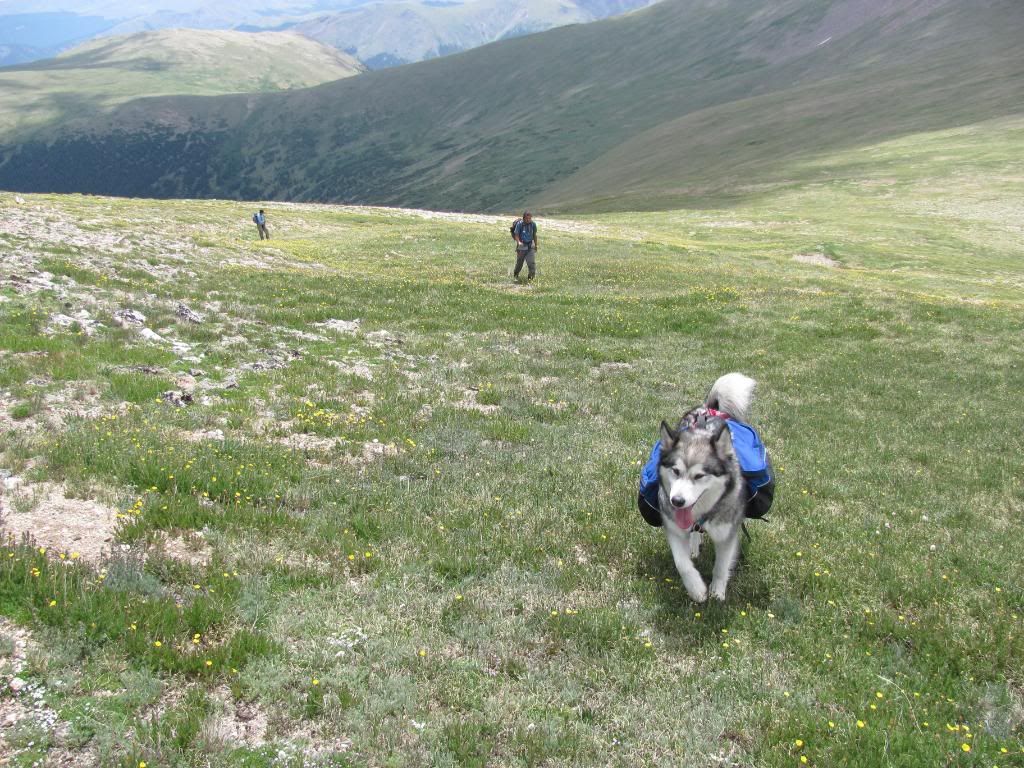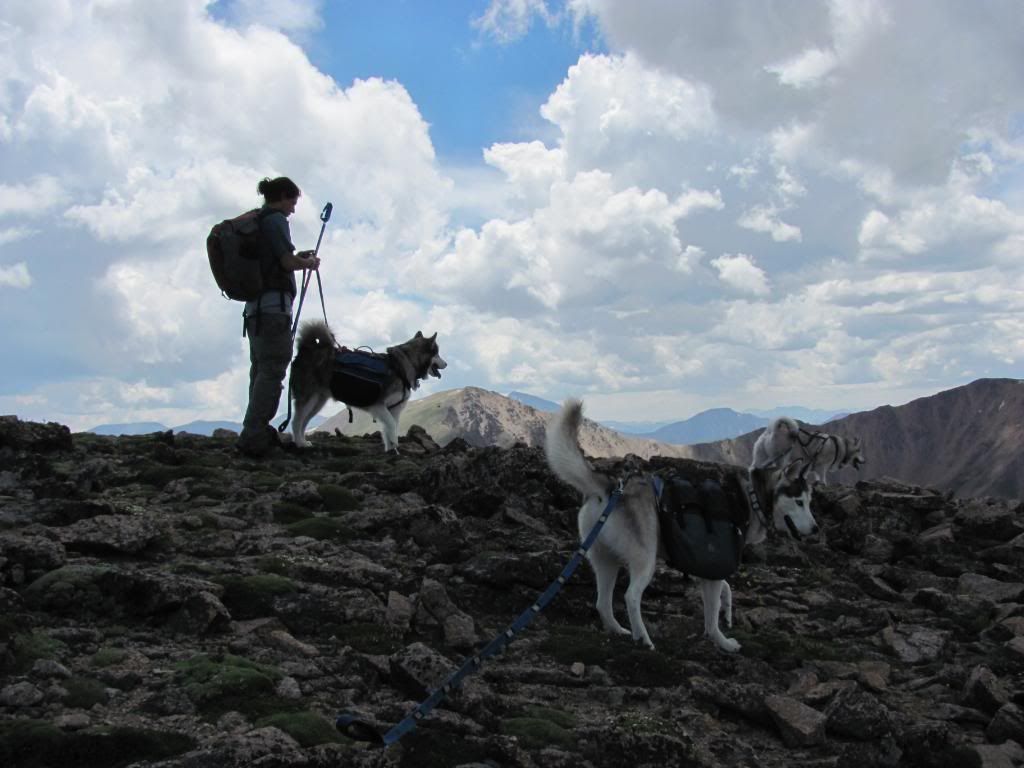 Looming clouds. These can flare up in minutes on a hot summer day. The nearby 14ers were getting the brunt of the storms and that seemed to give us time to get down. It was grueling. We missed the line from the trees and wound up tree hopping around for almost two hours getting to the road. And the road we emerged on was the main dirt road, about a quarter mile downhill from the van. So more vertical it was.